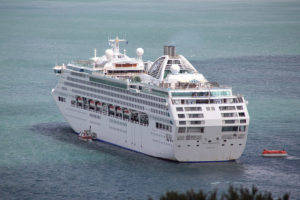 Cruise passengers were ordered to turn off lights and music to 'be prepared for pirate attack'.
1,900 cruise passengers underwent a ten-day nightmare on cruise liner Sea Princess. The holidaymakers were ordered to turn off all lights and music from dusk to dawn on the luxury cruise ship in fear of attack from Somalian pirates.
The Sea Princess, which was on a 100-day Sydney to Dubai cruise, became a 'ghost ship' as Captain Gennaro Arma ordered to switch off lights and music from dusk until dawn for 10 days because of a risk of pirate attack. Terrified tourists aboard the luxury cruise ship were also put through a 'pirate drill'.
Travelers, who had paid more than $50,000, revealed how the massive ship became a 'ghost ship' as it traveled through dangerous waters known for pirate activity. Holidaymakers were apparently stunned to learn that all curtains must be drawn and shutters closed and then the vessel turned into a "ghost ship". The vessel had to travel in the blackout for 10 days across the Indian Ocean, the Arabian Sea, the Gulf of Aden and the Suez Canal.
Carolyne Jasinski, a passenger, said the captain apologized for alarming guests but the threat was real and the ship 'must be prepared for a pirate attack'.
Other passengers posted on the social media "No lights, no party atmosphere, no movies under the stars, and no breezes on the balconies. All curtains were drawn and all shutters closed."
A spokesperson for the cruise line operator said the vessel was not facing a specific threat from pirates but the actions were taken only as a cautionary measure.