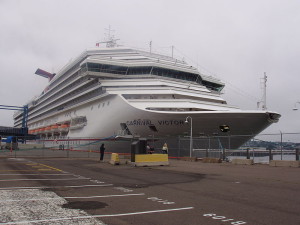 Thousands of People Stuck on Cruise Ships Because of Hurricane Harvey.
The tropical storm affects Caribbean cruise Itineraries.
At least four Galveston-bound cruise ships with a combined 20,000 passengers on board have been rerouted to avoid what initially was Tropical Storm Harvey. The ships have been forced to remain in the Gulf of Mexico as they await Harvey's passage.
Previously scheduled to dock in Galveston, Texas, the cruise ships will likely be postponed well into the next week. Three of the ships are Carnival cruise lines, while the fourth is a Royal Caribbean.
Carnival spokesperson Christine de la Huerta said that two Carnival ships were previously scheduled to dock in Galveston on Saturday and they will stop in New Orleans instead. The third Carnival vessel will dock in Cozumel, Mexico, and head to Galveston on Saturday.
Carnival Freedom and Valor will stop in New Orleans on Saturday for food and supplies. Passengers can choose to terminate their cruise and travel back to Galveston on their own or remain on board and return to Texas.
The third ship, Carnival Breeze, is currently docked at Cozumel and will remain there overnight. The ship will depart for Galveston on Saturday.
In case of a medical emergency on board, officials will be able to access the ship with a medical helicopter.