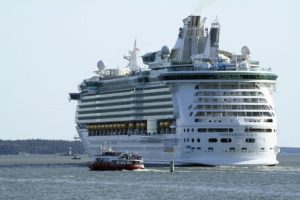 New thrill rides for Independence of the Seas include a trampoline park, an escape room, and laser tag.
Royal Caribbean has recently announced in a social media message that the Independence of the Seas will undergo a major multi-million refurbishment which will add new features and enhancements.
Initial details of the makeover announcement first came to light on the cruise lines Crown & Anchor Society Facebook page- just a few teases were mentioned.
The upgrade will take place in April 2018 and many high-adrenaline features will be added including Trampoline Park, water slides, escape rooms, and laser tag. They were proposed by UK & Ireland travel agents as part of an online competition.
The Independence of the Seas is a Freedom-class vessel, at 160,000 gross tons, with18 decks, and carrying a maximum of 4,370 passengers and 1,370 crews at double occupancy. It is currently sailing from south Florida and London (Southampton) to destinations in the Caribbean, the Baltic and Europe.
The Independence of the Seas was last upgraded in 2013 and features an ice skating rink, a surf simulator, boxing ring and rock-climbing wall.
Royal Caribbean is known for its thrill rides. Though no specific details were unveiled for the Independence of the Seas' upgrade, Royal Caribbean has slowly been rolling its Perfect Storm, a triple water slide, out to its fleet. The thrill ride includes the Cyclone, Typhoon, and Supercell – a champagne bowl swirling slide.
The cruise operator offers to its guests some of the most exciting thrill rides and experiences aboard world's largest passenger ships, where you can race a car on a top deck track, pedal along an 800-foot track suspended 150 feet above the deck; or jump into a submersible sub to discover undersea attractions.
According to Cruise Hive.