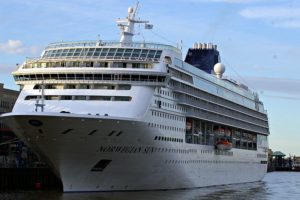 Norwegian Sun cruises to Cuba from Port Canaveral are now on sale.
The Miami-based line will send Norwegian Sun to Cuba from Port Canaveral on four-night trips beginning next summer.
Norwegian Cruise Line has just begun taking reservations for the four-night trips, which will kick off in May 2018. The plans for the sailings were announced earlier this month. The voyages will take place every week during the summer with departures on Mondays, beginning May 7 next year.
The voyages will take place on the 1,936-passenger Norwegian Sun which will homeport in Port Canaveral. The all-inclusive four-day cruises will include stops in the Cuban capital of Havana as well as Key West, Florida, followed by an early morning arrival in Cuba's capital city of Havana and the guests will have the opportunity to experience a full day and night of the historic city.
Guests can explore Old Havana, a UNESCO World Heritage site, in an American classic car. Also, they can check out some of Cuba's most famous photographers and painters at the Fabrica de Arte Cubano. At night, guests can enjoy the show at the famous Tropicana Cabaret. Norwegian Sun's guests will be able to follow in Ernest Hemingway's footsteps and visit The Ernest Hemingway Home and the museum in Key West's historic Old Town District.
Norwegian Sun offers 16 dining options, 12 bars and lounges, and entertainment options for all ages. All guests aboard the Norwegian Sun's cruises from Port Canaveral will also receive unlimited free drinks as part of the price point.
Norwegian has offered cruises to Cuba out of Miami for a few months on the 2,004-passenger Norwegian Sky.