A computer glitch stopped the Hollywood Rip Ride Rockit around 7 p.m. on Wednesday. Around a dozen people, including at least one child were riding it at this moment. They were stuck in a vertical position atop the coaster for more than 2 hours.
Rescue teams from the Orlando Fire Department were called to the theme park after several people reported that the Hollywood Rip Ride Rockit roller coaster had malfunctioned and about a dozen people were trapped on the ride. All were rescued by about 9:45 p.m., fire officials said, and one person was taken to the hospital with neck pain. According to dispatchers there was no danger for the people on the coaster but the operation took almost three hours because the ride had to be turned in horizontal position safely. The 12 people were given towels to stay warm during the ordeal.  Other trains were also stuck after the glitch but the park's crew was able to take them down fast as they were not vertical.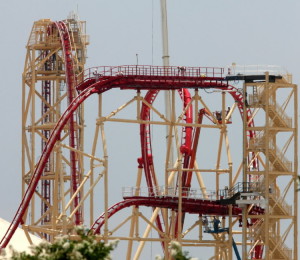 "We're happy that our guests are safely off Hollywood Rip Ride Rockit. We'll find out what happened & will reopen the ride as soon as we can," Universal said in a tweet.
Introduced in 2009, the Rip Ride Rocket has a max height of 167 feet and can reach speeds of 65 miles per hour. It is billed as Orlando's tallest roller coaster.
It is not the firs incident with the Hollywood Rip Ride Rockit this year. The ride was closed for two days in August after a woman was hurt when the car she was riding in stopped. The woman suffered minor injuries and the ride was closed after a safety inspection. It will again be closed; at least until a crew works to determine exactly what went wrong.