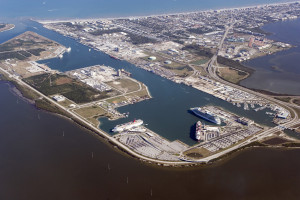 Port Canaveral will build a new bigger and better $150M cruise terminal. Port Canaveral commissioners have recently agreed to move forward with plans to build a new cruise terminal, even bigger than the current terminals. The new facility is set to debut in late 2019.
The Canaveral Port Authority will vote at its June 28 meeting whether or not to issue a formal solicitation for the design of a planned new cruise terminal facility, designed to accommodate ships with to 8,000 passengers, such as Royal Caribbean's Oasis-level cruise ships.
Construction and engineering of the terminal project are estimated to cost between $143 million and $153 million, according to Bill Crowe, the port's senior director of facilities. It would be built on the south side of the port at the place of the current cruise Terminal 3. The site of the new terminal is east of the Cove restaurant district, and west of Jetty Park and the Freddie Patrick Park boat ramps. In order to make way for the new terminal, the port's current Terminal 3 is planned to be demolished next May to make way for the new one.
The new facility will aslo include a 1,200-space parking garage, site work, roadway and other needed utility improvements. The design process will include the complete building architecture, electrical and plumbing of the terminal.
The authorities are planning to select three finalists for the design contract in August, then have each of them submit designs for consideration.
According to bizjournals.com