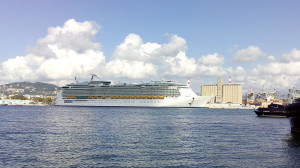 The largest private residential ship, The World, has just arrived at the Port of Palm Beach
The world's largest residential ship arrived as scheduled at the Port of Palm Beach in Riviera Beach at 7 a.m.
According to the port officials, The World is slated to depart from Palm Beach just before midnight today and will journey north to Port Canaveral. Port of Palm Beach spokeswoman Aidy Alonzo noted that there is no public access to the ship.
The gleaming 644 feet-long white vessel is the largest, oldest, probably most exclusive and currently only active residential cruise ship on earth. Collectively owned by its residents, many of whom live aboard the vessel full-time, the 43,188-ton ship is a floating 12-deck luxury city that features the only full-sized at-sea tennis court at sea, a 7,000-square foot spa and fitness center, as well as a 12,000-bottle wine collection. The residents can choose from six restaurants, several bars, a tea room, multiple pools, golf simulators, a library, and cinema.
The legendary vessel, dubbed a "condo cruise liner, features 165 homes, ranging from one-room studios currently priced at around $1 million, to luxurious suites over $15 million that are owned by 130 wealthy families who must have a net worth of $10 million as they pay annual maintenance fees of more than $100,000, and thousands more every month for amenities.
All residents are shareholders and vote on everything- from the ship's route each year- they plan the yearly itinerary, along with the ship's captain, to the type of fuel used and the Christmas decorations.
The average age aboard the ship is 64, but 35% of residents are under 50. For most of them, the ship is their home and they spend three to six months aboard and rent the condos out the rest of the year, but some of them actually live on the ship permanently.
The residents visit some of the most exciting and exclusive places on earth. So far they have visited the tribes of Papua New Guinea, tracked polar bears in the Russian Arctic, kayaked among icebergs and undertaken expeditions to two of the most remote regions on earth: the Ross Sea in Antarctica, and Melanesia near New Guinea.
According to PalmBeachCost.