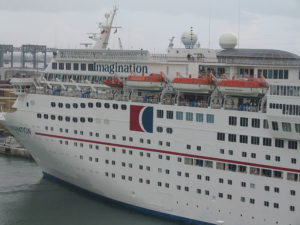 Carnival Corp. is launching three new reality programs about travel.
Cruise ship company Carnival Corp. is taking over Saturday morning TV with three new reality programs about travel, vacation and cruising.
The new TV shows are set to appear on the ABC, NBC and CW networks starting October 1, said the Doral-based cruising giant in a statement a few days ago.
Each lifestyle series will capture a different aspect of cruising experience, such as in-port adventures, seaside destinations and vacation experiences of real travelers. The series will feature ships from each of Carnival's 10 cruise ship brands over the course of various episodes, including Holland America, Carnival, Cunard, Princess and Fathom.
The three half-hour shows include The CW's "Vacation Creation", "Ocean Treks With Jeff Corwin," which will air on ABC, and "The Voyager With Josh Garcia" on NBC.
"Ocean Treks With Jeff Corwin" will take viewers on adventurous excursions in various ports, including mountain climbing, wildlife watching and diving with the Emmy-winning host Corwin. "The Voyager With Josh Garcia" will follow the host while he meets locals in seaside destinations and explore culture, history and food. "Vacation Creation" hosted by the comedian Tommy Davidson and YouTube celebrity Andrea Feczko. The show will create personalized dream vacations for families facing hardship.
Planning for the shows started one year ago and almost 80 episodes have been created since then in partnership with Litton Entertainment.
The programs are part of a broader strategy to change perceptions and "help dispel outdated myths about cruising", Carnival Corp.'s CEO Arnold Donald said in a statement. He added that the programs are designed to appeal to people of all ages and inspire viewers to travel the world on Corporation's ships.