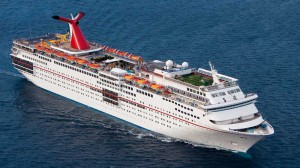 Port Canaveral announced that starting in 2014 Carnival will add new ships to its schedule of home-ported ships sailing year-round to Caribbean destinations. The first new ship, the renovated Carnival Sunshine, will arrive in April 2014 and replace the Carnival Dream at Canaveral. The next month, the larger Carnival Liberty will arrive to replace the Carnival Ecstasy at the Brevard County seaport.
Carnival Sunshine, which recently completed a massive $155 million transformation, will be repositioned from New Orleans to Port Canaveral beginning in April 2014. This move will allow Carnival to continue to offer attractive new options from Port Canaveral and marks the first time the line will have a ship in Central Florida featuring all of the fantastic Fun Ship 2.0 bar, dining and entertainment innovations.
Carnival will also increase capacity in Port Canaveral by 30 percent when Carnival Liberty launches year-round five- to eight-day Caribbean cruises in May 2014, adding a second Fun Ship 2.0-equipped vessel to the Space Coast.  The ship's many popular features include Guy's Burger Joint, developed in tandem with Food Network star Guy Fieri, along with BlueIguana Cantina, RedFrog Rum Bar, EA Sports Bar, BlueIguana Tequila Bar and the award-winning Alchemy Bar.
Carnival Sensation will continue sailing 3- and 4-night cruises to The Bahamas from Port Canaveral to round out Carnival's three-ship Canaveral fleet
"Port Canaveral has been a valuable partner with Carnival for more than 20 years and we're pleased to expand our operations from the Space Coast with the deployment of the Carnival Liberty in 2014," Carnival Cruise Lines President and CEO Gerry Cahill said in a prepared statement.
Carnival Cruise Lines continues to make a positive economic impact upon our community," said Port Canaveral Commission Secretary/Treasurer Frank Sullivan "and we continue to warmly welcome their ships and their partnership at our Port."