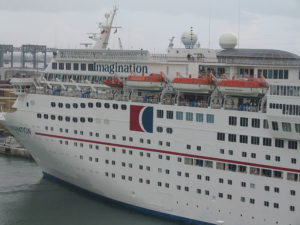 Florida-bound Carnival Horizon construction is in the final stages.
Carnival Horizon is arriving in just a few months. The cruise ship is currently under construction at the Fincantieri shipyards in Italy and it is slated to debut April 2, 2018.
Carnival Cruise Line will officially take possession of its new Vista-class ship in just over a month and the final touches are taking shape.
Images of the interior and top-deck areas of the new Carnival cruise ship were released last week showing the vessel nearly ready.
The new Carnival vessel is the 26th ship in the fleet, and a sister to Carnival Vista, which debuted in 2016. Horizon will hold 3,934 passengers at double capacity, which is slightly less than Carnival Vista. However, the new ship features two special cabin areas on board just like her sister ship Carnival Vista, the Family Harbor area with its own lounge that is designed for large families, and the Havana Cabanas, featuring private outdoor patios and don't allow any children under 12 and features its own lounge and pool.
The 133,500-ton ship will sail Mediterranean itineraries until May when it makes its way on a 14-day transatlantic voyage to New York for summer sailings to Bermuda and the Caribbean. Then in September, Horizon repositions to PortMiami and starts sailing six- and eight-night Caribbean trips and one special two-night cruise to Nassau on September 20.
Another Vista-class ship is coming soon, Carnival Panorama, and it will be homeported in California year-round after its debut in 2019. The Vista-class ships are the largest in the Carnival fleet, but the first of a new class with a capacity of 6,600 passengers is set to debut in 2020.