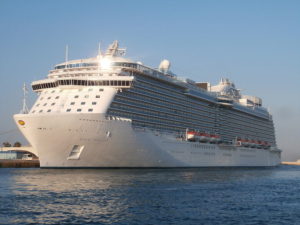 OCEAN is Carnival's new medallion wearable device that will level up guest experience on cruises.
The name OCEAN stands for One Cruise Experience Access Network. The tiny quarter-sized medallion was introduced by Arnold Donald, CEO of the world's largest cruise company, at a keynote speech at the annual Consumer Electronics Show in Las Vegas yesterday.
The wearable is full of so much technology that will personalize the customer's experience from their first attempt at trip planning to their last minutes at sea and the device will work both during and after cruise vacations.
The device can be worn as a pendant, a wristband, a necklace or carried in a pocket. The technology uses a series of sensors positioned throughout the ship that are able to locate you. Your medallion will not only unlock your door, but also it will be able to recognize when you're walking to your cabin and automatically turn on the lights and air conditioner before you even get to your door.You can make reservations and schedule excursions and make onboard payments; you can message other cruise passengers; you can gamble without having to visit the onboard casino or order margaritas and the medallion will provide crew members with your location and they will be able to deliver food to you instantly.
The medallion wearable technology was developed by John Padgett, Carnival Corporation chief experience and innovation officer, and Michael Jungen, senior vice president of technology. Both developed and introduced the MagicBand while working for the Walt Disney Corporation.
The new technology will debut on Princess Cruises' Regal Princess in November 2017, followed by the Royal Princess and Caribbean Princess in 2018. According to company's officials, the technology is expected to evolve while rolling out across the Princess fleet over a few years and expansion on all Carnival Cruise ships could take multiple years.