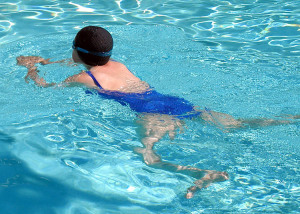 A family is suing one of the largest cruise lines in the world after their 4-year-old nearly drowned in the on-boat pool. 
The lawsuit, that was filed only a few days ago, calls for Royal Caribbean International to staff its childrens' pools with lifeguards. The family hopes the lawsuit would save lives.
The incident happened in January 2015. The boy, identified as Ascanio Azzia, was traveling with his family on Royal Caribbean's Oasis of the Seas. The ship had just depated from Port Everglades.
Just an hour into the trip the little boy nearly drowned after his mother Valentina Azzia lost sight of him in the toddler poolon the 15th deck of the ship. The boy had wandered from his mother and somehow made it to the nearby wave pool where the water was deeper. The mother alerted the ships authorities after realizing her boy was missing. A frantic search started. A guest spotted Ascanio into the water and motioned to another man who jumped in to save the boy. Finally, it was passengers and not cruise staff who first attempted to resuscitate the child, according to the mother. The ship's medical staff soon arrived and performed CPR. The boy had spent approximately six minutes under water and had no longer pulse.
The ship returned to port the same evening and the boy was taken to Broward Health medical Center in Fort Lauderdal where he remained in critical condition for about a week before waking up. The police investigated and determined the incident was an accident.
Most cruise ships don't have lifeguards. Only Disney Cruise Lines currently provide lifeguards and they have been doing this since 2013 when a 4-year-old child nearly drowned in a pool on one of their cruise ships.