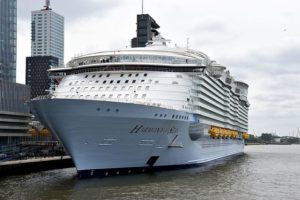 Three months after the launch of the behemoth Harmony of the Seas, Royal Caribbean is still in search of a godmother for the ship.
Royal Caribbean in partnership with South Florida ABC Local 10 is asking South Florida residents to help find a godmother for Harmony of the Seas. South Floridians are encouraged to visit the site of Local 10 and nominate a mentor, educator or teacher who is inspiring the students to "dream big, think differently and challenge" the present and whose passion for education inspires the next generations to make a positive impact on the world.
Nominees must be legal residents of Florida, at least 21 years old at time of nomination, volunteers, or full- or part-time employees at a school or educational organization in Palm Beach County, Miami-Dade County or Broward County. Entry nominations for Harmony of the Seas' godmother will be accepted until September 23, 2016.
The winner will be given the title "Godmother of Harmony of the Seas" during the official naming ceremony on November 10, 2016, as well as a $25,000 grant will be awarded to her school to fund education initiatives that will further her mission to inspire young people in South Florida. The godmother will also have the opportunity to bring three guests with her on a two-night pre-inaugural cruise. In addition, she will be given a free future seven-night cruise for two on Harmony of the Seas.