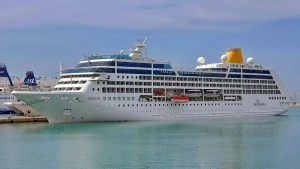 The Carnival Corporation's ship Adonia was the first U.S. cruise ship that made a voyage to Cuba in more than 50 years.
After a half century of waiting, first U.S. cruise ship sets sail from Port Miami for Cuba on an historic voyage. This happens after communist nation loosens its policy banning Cuban-born passengers from arriving to the country by sea. Cubans were only permitted to travel to and from the U.S. by plane until April 22, when the Cuban government lifted the ban on maritime entry.
The restriction measures, that barred travelers born in Cuba from the trips, date back to the Cold War when there were fears of a U.S. backed invasion from the sea.
Carnival Corporation's Fathom Line Ship Adonia, a ship carrying 704 passengers left Port Miami at about 4:24 p.m. local time and headed to Havana for a seven-night trip. Along its way, the cruise ship will visit the ports of Cienfuegos and Santiago de Cuba.
Carnival Corporation, the company operating the cruise, had received permission from the both governments to sail vessels to and from Cuba.
However, the restriction banned Americans of Cuban origins from booking and after some protests by Cuba-Americans, the cruise operator said it would be forced to postpone its cruises unless the government changes the entry policy. The Authorities in Cuba lifted the ban. In March, the diplomatic relations between Havana and Washington culminated in the historic visit to Cuba by President Barack Obama.