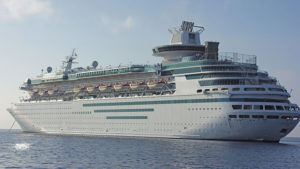 The Majesty of the Seas remains docked at Port Canaveral after Coast Guard inspectors find out 'multiple' safety issues on board the ship.
The issues were discovered Monday during a routine annual safety inspection aboard the Royal Caribbean cruise ship, Coast Guard spokesman Ryan Dickinson said. He added the delay had to do with the life-saving equipment aboard the ship, not the engine.
The cruise operator released a statement Tuesday morning. Coast Guard conducted a routine inspection and found that some life jackets 'were showing their age', Cynthia Martinez, a Royal Caribbean spokeswoman said. She also said there were other 'technical issues', but did not give any further information on what the other issues are, or if they are safety-related. It is also unclear how many life jackets need to be replaced.
The 880-foot-long Majesty of the Seas can carry more than 2,700 guests and a crew of 900. All of them were stuck at Port Canaveral. The Royal Caribbean cruise ship was scheduled to set sail at 5 p.m. on Monday for a four-night cruise with stops in CocoCay and Nassau in the Bahamas. They had already boarded the ship when a safety inspection, conducted by the U.S. Coast Guard, grounded it at the port.
On Twitter, Royal Caribbean apologized to the delayed guests and asked for patience. However, it is also unclear what time the ship will be allowed to leave or the schedule will be altered.
According to Orlando Sentinel.