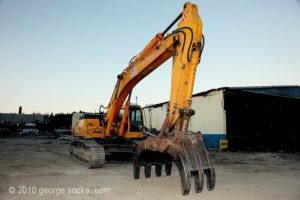 The port has started work on the biggest construction project in its history, an enormous high-tech cruise terminal.
Port Canaveral started demolishing its old Cruise Terminal 3 this week to make room for a larger $150M structure.
The demolition of the old terminal complex will cost $210,000 and will be completed by July. The contract has been won by Melbourne-based Frank-Lin Services of Brevard. Its bid was the lowest among 14 companies. Subsequent phases of the project include berth demolition, dredging, and waterside construction. Also, constructing passenger boarding bridges, construction of a two-story, 188,000-square-foot terminal, with related site work, and an adjacent elevated parking structure with the capacity to accommodate 1,800 vehicles.
The two-story, 188,000-square-foot terminal will be east of the port's Cove area and west of Jetty Park. Port Canaveral Chief Executive Officer John Murray says the construction project will take 20 months, with five contracts, four of which are still to be awarded. The new terminal will replace one of the port's oldest cruise terminals used for single-day, port-of-call vessels. The new terminal will open by 2020 and is expected to support approximately 4,000 permanent jobs at the port, cruise lines, and cargo operations. The terminal will feature a fully integrated U.S. Customs and Border Protection screening area and integrated mobile passenger check-in.
According to FloridaToday.