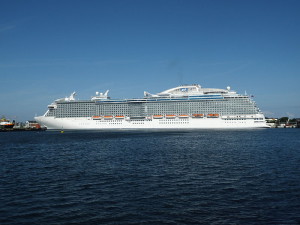 Princesses Cruises has revealed new details on its upcoming China-bound cruise ship. The new ship will be named Majestic Princess. The vessel, that is currently under construction, will be the new sister ship to Royal Princess and Regal Princess, which homeport during the winter at Port Everglades in Fort Lauderdale.
The Majestic will be based in Shanghai, China year-round. Beginning in summer 2017, the ship will sail to Japan and South Korea. It will be the first Princess vessel built specifically for Chinese market incorporating a unique blend of international and Chinese features. As dedicated to the Chinese market, Majestic Princess will also carry a Chinese name on the hull which, according to Princess Cruises, is translated to "Gran World" or "Grand Spirit".
The 143,000-ton Majestic Princess is being built at the Fincantieri shipyard in Monfalcone, Italy. The vessel is designed for 3,560 guests at double capacity. The ship will offer many of the special features that have made Royal Princess and Regal Princess so popular and distinctive.
Those features include SeaWalk, a glass-floor walkway that lets guests walk nearly 30 feet out over the edge of the ship for a view of the ocean 128 feet below; a dramatic multi-story atrium serving as the social hub of the ship; the Princess Live interactive studio. Also onboard will be the special Chef's Table Lumiere, a private dining experience that surrounds guests in a curtain of light.
An international cuisine and entertainment approach will be offered along with a traditional Las Vegas-style production. The cruise ship will also offer Princess' signature Movies Under the Stars with the largest outdoor screen at sea, as well as the exciting Princess WaterColor Fantasy fountain and light show.