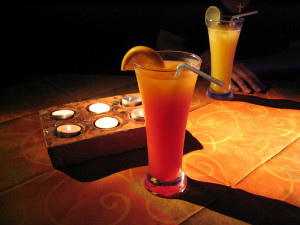 When Quantum of the Seas debuts this fall, it will be the most futuristic and technologically advanced cruise ship ever to sail, Royal Caribbean Cruises chairman and CEO Richard Fain and technology expert David Pogue revealed at a news conference last Monday at the Meyer Werft shipyard. They unveiled a number of technological advancements created to improve the passenger experience.
The most high tech cruise ship is almost ready to hit the high seas and features a Bionic Bar, apparently the first of its kind in the world where passengers can place orders via tablets and then watch as robots mix their cocktails. Two arms work at once on different drink orders.
And this is only one of the array of unprecedented state-of-the-art technology features. The Quantum of the Seas will boast a futuristic venue called Two70: floor-to-ceiling windows and six seven-feet-high dancing "Roboscreens" controlled by robotic arms; a sky-diving simulator North Star; interior guestrooms with virtual balconies; the first bumper cars on a ship; superfast internet connectivity; computerized wristbands show passengers where to go and serve as a room key; a Microsoft tablet for every crewmember on the ship.
As you can see, Quantum of the Seas introduced a host of state-of-the-art technology features that are not just first at sea, they are first of their kind anywhere in the world. It seems to be the most anticipated cruise ship ever.