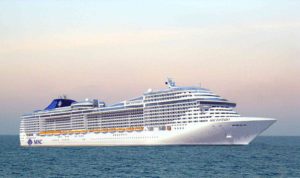 Swiss-based cruise line MSC Cruises officially took delivery of its biggest ship ever, then three days later, the vessel was christened.
The 171,598-ton MSC Meraviglia, the first of the company's six new ships which are due to come into service between 2017 and 2020 from STX France shipyard in Saint-Nazaire, France.
During the ship's flag ceremony, held on May 31, the vessel received her official flag and blessings for good fortune. The ceremony was attended by Emmanuel Macron, President of the French Republic and other officials from the French government.
MSC Cruises held a star-studded christening ceremony in Le Havre, France on June 3 Saturday, 2017- a year in which the French port is celebrating its 500 year anniversary. The line's newest ship will be positioned in Marseille for its inaugural Mediterranean season and will operate seven-night voyages that include stops in France, Italy, Malta and Spain.
Italian film icon Sophia Loren was the godmother for the ship. She sliced a blue ribbon to send a bottle of champagne smashing against the vessel's hull. The event lasted nearly two hours and included performances by well-known French actors and singers and ended with fireworks.
More than 1,000 feet long and 214 feet wide, Meraviglia is the fourth largest cruise vessel ever built. It is smaller only than the three Oasis Class ships that debuted since 2009.