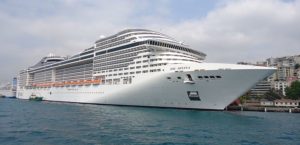 MSC Cruises revealed its new class of cruise ships.
The Swiss-based European company unveiled some details for its new class of cruise ships. The vessels will be among the largest in the world- they will boast 2,760 cabins and carry a maximum of 6,850 guests which is 70 more than the current record-holder, Royal Caribbean's Harmony of the Seas.
The first ship of the new class will arrive in 5 years. The others will be built between 2022 and 2026. A CGI image of what the vessels will look like was released at an event attended by Emmanuel Macron, the French president, and the minister of economy Bruno Le Maire. The vast vessels, with more than 1,080 feet in length and 200,000 tons, will be built by STX France in Saint-Nazaire.
Only a few days ago, the 171,598-ton MSC Meraviglia, the line's 12th ship, was christened in France. Meraviglia is the first to introduce the line's partnership with Cirque du Soleil and the ship has a venue designed specifically for two unique performances. The ship also features an amusement park and water park, a 315-foot-long indoor promenade with LED light sky and a Yacht Club.
The line has an agreement with the French shipyard for two other World Class ships with an option for two more. Those four new vessels will be powered by liquefied natural gas which is the cleanest-burning fossil fuel. One of them, MSC Seaside, will come to Miami in six months. Then two yet-to-be-named 177,100-ton Meraviglia-Plus class ships will be built in 2019 and 2020 and a third Seaside class ship will debut in 2021.
The World Class will feature futuristic Y- shape structure which will enable guests to enjoy panoramic sea views, as well as the proportion of balcony cabins, will be increased. The vessels' bows have been designed to further improve stability and hydrodynamics and according to MSC, the World Class vessels will be the world's "most modern and technologically advanced cruise ships."