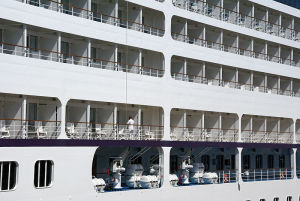 The first building block of the Seven Seas Explorer was placed during a special keel laying ceremony held at the Fincantieri shipyard in Genoa, Italy only a month ago. The ceremony marked a significant milestone in the creation of the most luxurious ship ever built. With the estimated investment of $450 million for the construction, it is currently the most expensive cruise liner as well. The financing is provided by Crédit Agricole Corporate and Investment Bank.
During the sophisticated ceremony, a black Rolls Royce Phantom delivered a red velvet pillow with three symbolic coins on it: a rare 1921 US silver coin, known as the Peace Dollar, that symbolizes the safe passage of the Seven Seas Explorer; a 1959 silver Italian Lire, representing the year when the Fincantieri shipyard was established and a commemorative coin especially minted for the occasion. The coins were welded into the keel by Regent President and CEO Jason Montague and two other company executives.
At 56,000GT and carrying only 750 guests, the Explorer will boast the highest ratio of space to passengers in the history of the cruise industry. The ship will feature 369 all-balcony suites, some of the most opulent at sea, and with sophisticated décor and designer furniture. The suites will be from about 300ft² to 1,500ft². In addition, the ship will include luxurious public areas: six open-seating gourmet restaurants, an atrium covering nine decks, the two-story Explorer Theatre, and many other amenities. Personalized services will be offered onboard.
The Seven Seas Explorer is scheduled to be delivered in the summer of 2016. The super-luxury cruise ship will join the Regent's fleet of award-winning super luxury ships, Seven Seas Voyager and Seven Seas Mariner, which debuted more than a decade ago.
It's time to take your money out of the mattress as the reservations for the maiden voyage have already started.