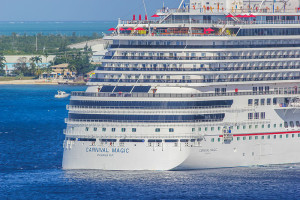 Carnival Corporation the world's largest cruise operator announced yesterday it has installed Exhaust Gas Cleaning Systems (EGCS) on 60 ships across its 10 brands. The company is planning to deploy the cleaning systems to 85 ships of its fleet through 2020 in its effort to improve the quality of air emissions and reduce the environmental impact of their ships. The investment is about $400 million to date.
On Monday, the cruise operator said it has completed installation and certification of EGCS. The proprietary technology was first announced in 2013. The system successfully functions in the confined spaces of a vessel and reduces sulfur compounds and particulate matter from a ship's engine exhaust at sea and even while maneuvering and in port. The technology enables the cruise operator to meet international regulations that put a cap on the sulfur content of fuel oil at 0.1 percent.
The cruise operator has spent $400 million so far and is planning to develop and deploy its systems on more than 85 vessels across its fleet in the next three years, aiming to significantly improve the quality of air emissions from its cruise ships and reinforce its environmental commitment.
Other companies including Royal Caribbean, MSC Cruises, and Norwegian Cruise Line are also taking steps to reduce the intensity of carbon emissions either through scrubber technology or by adding future LNG-powered vessels.