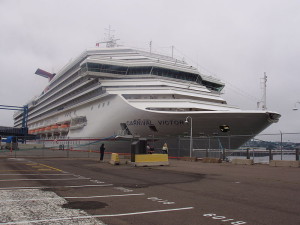 Carnival Cruise Line announced plans to launch the first cruise ship with a roller coaster on board.
Carnival promises 'heart-pounding' onboard roller coaster on its highly anticipated cruise ship, Mardi Gras.
The all-electric coaster, the BOLT, will travel nearly 40 mph and take riders on a series of twists, turns and drops, right around the ship's famous whale-tail funnel.
The coaster will allow two riders at a time to strap in and race along nearly 800 feet of track, 187 feet above sea level. BOLT is being built by Munich-based Maurer Rides.
Carnival says Mardi Gras will be based in the new state-of-the-art terminal at Port Canaveral. It will be the first vessel in the new XL-class, the largest ever built for Carnival Cruise Line. the name Mardi Gras refers back to the fleet of the first Carnival ship that entered service in 1972.
The President of Carnival Cruise Line Christine Duffy noted that Mardi Gras will be the company's most innovative ship ever with some truly special features and attractions, highlighted by the first roller coaster at sea. He added that they are thrilled to introduce this "one-of-a-kind, game-changing, exhilarating" attraction – their guests would love it.
According to Tampa Bay Times.