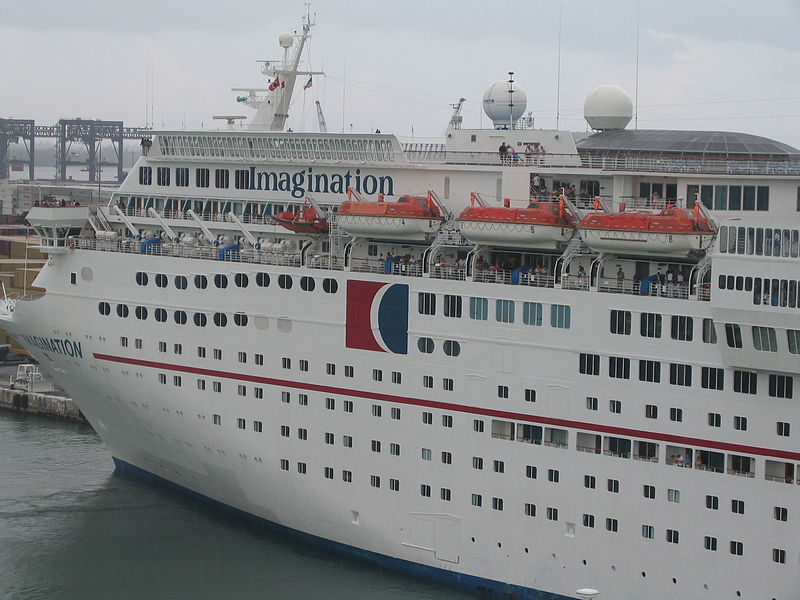 Faced with decreasing revenues and a lack of passengers during the global COVID-19 pandemic, some cruise line operators are taking an unpopular but necessary step: selling off their ships or taking them out of service and recycling them.
Most modern cruise vessels have service lives of 40 years or more. It is not uncommon to see cruise ships built in the 1970s and 1980's go to the breakers. Older vessels are often sold first to another, smaller cruise operator — a market that is often referred to as "second-hand tonnage." However, due to the coronavirus pandemic, you can see now relatively young vessels to be sold or scrapped, as the cruise lines are looking to trim operational costs.
Carnival says goodbye to 4 of its ships. Carnival Fantasy (1990-2020) was revolutionary when it first began life in 1990. It was the lead ship in Carnival's iconic eight-vessel Fantasy Class that was introduced from 1990 to 1998. They became the largest group of cruise ships built to the same specifications at the time. With its vibrant Joe Farcus-designed interiors, the ship helped to spark a competition with Royal Caribbean that continued until recently.
After the COVID-19 pandemic, Carnival confirmed on July 23 that the ship had been sold, and it arrived in Turkey for scrapping. Another emblematic Carnival was Fascination (1994-2020). Launched in 1994, Carnival Fascination was the fourth of eight Fantasy Class ships to debut. The ship's interiors would recall the grand days of Hollywood, with public rooms like the Beverly Hills Bar named accordingly.
Originally based out of New York, the ship has had a number of homeports over its 26 years of service. Most recently, the ship was based in San Juan and was due to replace Carnival Fantasy in 2022 prior to the COVID-19 outbreak.
On July 23, Carnival announced that Carnival Fascination, along with Carnival Imagination, would be taken out from service and placed in a long-term layup. However, it is unlikely the ship to rejoin the fleet.
Home-based in Long Beach in recent years, Carnival Imagination (1995-2020) was one of the Fantasy Class vessels. Like the rest of the Fantasy Class, its iconic interiors were designed by longtime Carnival architect Joe Farcus, who gave Imagination's public spaces their remarkable look.
The sixth vessel in Carnival's Fantasy Class, Carnival Inspiration (1996-2020) brought Art Nouveau touches to public rooms like the Paris Lounge, and the Rhapsody in Blue piano bar offered ebony and stone paneling balance by aqua accents.
The ship arrived in August in Turkey and was beached alongside sister Carnival Fantasy and former competitor Sovereign.
An older ship to retire is Black Watch (1971-2020). Black Watch began life in 1971 as Royal Viking Star, the lead vessel for the much-beloved Royal Viking Line. An upscale ship, it was one of the most modern cruise vessels in the world when it first set sail and was lengthened by 91 feet in 1981.
The ship transferred to Norwegian Cruise Line in 1991 and started sailing for  Royal Cruise Line as Royal Odyssey before being acquired by Fred Olsen Cruise Lines in 1996 and renamed Black Watch.
Black Watch was noted for its wide, open decks, an abundance of public areas; and its unique itineraries.
Boudicca (1973-2020). Like Black Watch, sister-ship Boudicca also debuted with Royal Viking Line, setting sail in 1973 as Royal Viking Sky. It also sailed with Norwegian Cruise Line for a brief period of time between 1991 and 1993. Also, between 1993 and 1997, it sailed for Princess Cruises as Golden Princess.
The ship then was acquired by Fred. Olsen and set sail as Boudicca in 2005. Boudicca got one of the most "modern" at those times, thanks to a series of upgrades to the vessel's interiors spaces and passenger cabins that occurred at the Blohm + Voss shipyards in Hamburg in 2018.
After being retired from the Fred, Olsen fleet, it is unlikely that the 47-year-old Boudicca will sail on further cruises for any line.
According to Cruise Critic.