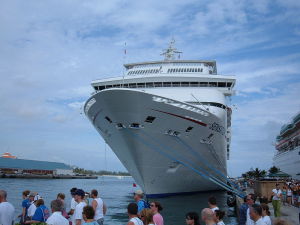 Carnival Cruise Line cuts first steel for its largest ever ship.
The first steel has been cut for the newest and largest ship in Carnival Cruise Line's latest class.
The 180,000-tonne Excellence-class vessel will carry 2,500 passengers.  From its launch, the yet-unnamed cruise ship will operate from Port Canaveral.
The traditional steel-cutting ceremony was held at the Meyer Turku shipyard in Turku, Finland a few days ago. It signified the official start of construction of the largest Carnival cruise ship ever constructed which will be delivered in 2020.  A second XL ship will start construction in 2020 and is due to be delivered in 2022 to mark the 50th anniversary of Carnival Cruise Line's founding. The ship's name is due to be revealed early next month.
When it takes to the sea it will be the first-ever ship operating in North America to use liquefied natural gas.
At the same time, the cruise giant revealed the new livery for its newest XL vessel. At Thursday's ceremony, the American cruise operator also revealed a new red, white and blue hull design developed by New York-based Bluarch Architecture, and built upon Carnival's iconic color scheme, highlighted by a navy blue hull along with vibrant red and white accents running the entire length of the 1130 ft-long liner.
The ship will operate from Port Canaveral, Florida, and the ship's name is scheduled to be revealed in early December.