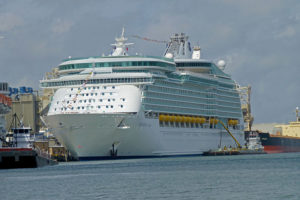 Royal Caribbean says Navigator of the Seas has 'received all necessary clearances and approvals' to resume its cruise.
Following an unscheduled stop for repairs and inspection at the port of Vigo, north-west Spain, Navigator of the Seas has been cleared to resume its itinerary.
According to a Royal Caribbean spokesman, the ship was 'safe and seaworthy at all times' and the stop in Spain was made in 'an abundance of caution'. He added that after they had dealt with the issue, the ship received all necessary clearances and approvals to resume its cruise safely.
The vessel was due to arrive in Spain on November 3 as a final port of call before heading back to the UK. The ship had set sail from Southampton on October 26 for a 10-night sailing to the Canary Islands, when it was forced to make an emergency stop at the nearest port.
Passengers onboard said they were experiencing rough sea at night when suddenly at about 3 am on Sunday they heard a "loud bang" and then the vessel began to take on water.
A Code Bravo alert to the crew was sounded Saturday night. A "Bravo code" is only used to alert the crew to a fire or other serious incident on board without alarming passengers.
According to a crew member, the captain announced bravo code at night, when the crew bar got full and suddenly everyone started running. They sounded the alarm and crew were seen walking around with life jackets. It seems one of the stabilizers onboard had been broken and made a hole at the hull and an entire fire zone had to be closed because it was leaking water.
Crew members had managed to make a temporary repair within two hours then they sailed the ship to the port of Vigo.
According to Sea Trade Cruise News.