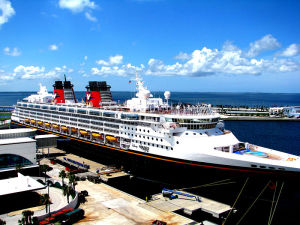 Disney Cruise Line gets approval for second Bahamas private island.
Almost 20 years after Castaway Cay debuted, Disney Cruise Line is planning to add a second private island destination in the Bahamas.
Florida-based cruise operator has won preliminary approval from the Bahamian government to build a destination for its ships on the southern tip of the island of Eleuthera, known for its pink sand beaches and surf.
The project is named Lighthouse Point, after a historic lighthouse on the property. Disney Cruise Line has a purchase agreement with the current owner to buy the site. The project is to be finished between 2021 and 2023. Lighthouse Point would be the second private destination operated by Disney in the Bahamas. The first, Castaway Cay, opened in 1998 and currently is a frequent stop for the company's four ships. Disney is planning to expand its fleet from four to seven, all planned to set sail in 2021, 2022 and 2023 and that means they will need more locations to sail to.
News broke a few days ago that the Bahamas government has approved a plan for Disney Cruise Line to buy 746 acres of land on the island of Eleuthera, about 75 miles east of Nassau. The next step for Disney is to negotiate a plan with the Bahamas for developing the land, which was privately held by a Michigan-based restaurant company. Disney announced it is planning to develop about 20 percent of the land, with 25 percent being designated for conservation purposes, however, the final plan is still in the works and has to be approved by the Bahamas government. The new resort is expected to create 120-150 new jobs.
According to Travel Market Report.