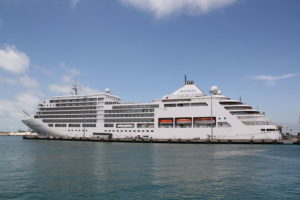 Royal Caribbean is already growing its luxury Silversea line.
Months after buying a majority stake in Silversea Cruises, Royal Caribbean is doubling down on its luxury player. Miami-based cruise operator will add three more new ships to its growing fleet, the cruise line spokesman said in an announcement on Monday. Including vessels that are currently in the works, that one will bring Silversea's total number of luxury and expedition ships to 14.
Over the next few years, luxury line Silversea Cruises will take its ships' standard to an even higher level though Project Invictus, a program covering everything from product upgrades to ship-wide refurbishments fleetwide.
The first Project Invictus enhancements began rolling out on Silver Muse on August 19, with an enhanced Champagne and caviar experience and some other upgrades, yet to be revealed, and become fleetwide.
The Silver Muse, 40,700 gross tonnes, was delivered by Fincantieri last April and is the largest of Silversea ships. Silversea luxury cruises are known for their butlers and fine dining. A recently launched 140-day world cruise offered suites that ranged from between $81,000 and $317,000 per person.
In addition, Silversea operates four expedition vessels, so after the purchase, Royal Caribbean will enter the rapidly-expanding expedition cruise market. In total, Silversea has a fleet of nine ships, with two more due to launch in 2020 and 2021.
One of the new ships, called Silver Origin, will be a 100-passenger expedition vessel destined for the Galapagos Islands, due in March 2020.
The other two ships will be a new design for the operator, called "Evolution Class." The first is expected by 2022 and no other details have been released yet.
According to Skift.