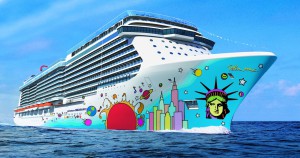 Norwegian Cruise Line's first custom-made ship for the Chinese cruise market, Norwegian Joy, has emerged from a shipyard in Germany.
The 3,850-passenger departed the Meyer Werft shipyard in Papenburg on Sunday.
The giant new Norwegian Line's ship made the 17-hour-long trip on March 26 along the north-flowing Ems River. As the vessel had to travel stern-first, in backward, to make the journey, it was assisted by a team of river pilots from Emden who were responsible for bringing the ship through this maneuver. The so-called "conveyance" drew thousands of spectators from the surrounding local villages along the route, a traditional one for the company for centuries. The shipyard has been doing this since 1795. People gather at the river bank to watch and celebrate each ship's distinct journey.
There are plenty of challenges to have a successful conveyance for ships of any size: conditions must be exact- wind speeds must be 20 knots, tidal barriers must be closed and there has to be either a full or new moon.
The 3,850-passenger ship departed the shipyard on Sunday, sailing backward toward the sea, before arriving in the Netherlands.
The ship will spend a month doing sea trials, and then it will be formally delivered to Norwegian Cruise Line on April 27.
Next 3,850-passenger ship will set sail for China. The inaugural celebration is scheduled to be held on June 27 in Shanghai and will include an exclusive concert led by her Godfather, iconic artist Wang Leehom, followed by an overnight cruise for honored guests. At 168,800 tons, Norwegian Joy is one of the 10 largest cruise ships ever built.
When Norwegian Joy launches in summer 2017, the ship will feature the first two-level competitive race car track at sea; an open entertainment area with hovercraft bumper cars and laser tag; a state-of-the-art racing simulator; two water slides; and the line's largest upscale shopping district.
Norwegian Joy will sail year-round out of Shanghai and Tianjin, China starting this summer.