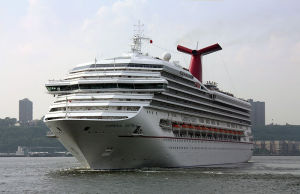 Carnival Cruise Lines will open a new port of call at Amber Cove in the Dominican Republic on October 6, 2015, the company officially announced. The new $85-million facility is situated near the city of Puerto Plata on the north coast of the Dominican Republic. The port will be able to accommodate the largest cruise ships currently operating.
As the Caribbean accounts for more than a third of worldwide cruise traffic, the new 30-acre facility is expected to bring more than 250,000 cruise passengers to the new port during its first year of operation, as well as to revive interest in the north coast of the Dominican Republic. The port hasn't been a regular cruise stop for more than thirty years.
Terry Thornton, Carnival's senior vice president of itinerary planning, commented that Amber Cove is "destined to become a cornerstone in creating new itineraries" from U.S. home ports.
The Carnival Victory will be the first ship to visit the new port at Amber Cove and it will make a one-day call to open the destination, the cruise line said.
The Carnival Cruise Line has scheduled a total of 37 calls in Amber Cove between October 2015 and April 2016. Other Carnival ships that will call there are Breeze, Glory, Splendor and Victory from Miami, the Sunshine and Valor ships from Port Canaveral, the Fantasy from Charleston and the Conquest from Fort Lauderdale. The port has dual berths that would accommodate two of Carnival's largest ships simultaneously.
The new port of call will offer its visitors "fun in the sun" activities, according to the company's vice president of itinerary planning, combining eco-tourism, unique sightseeing and cultural experiences. Carnival brands are planning to offer more than 40 new shore excursions and add new itineraries in the central Caribbean.