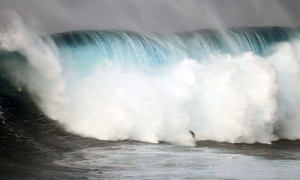 Two passengers were injured after a freak wave hit the side of a cruise ship while sailing in the Caribbean.
MSC Divina was sailing from San Juan, Puerto Rico to Nassau, Bahamas as part of a 7-night Western Caribbean cruise, when a rogue wave hit the side of the ship late on Thursday night injuring two passengers. The cruise departed from Miami, Florida on November 21 and arrived back on November 28 as scheduled.
The 136,000 gross ton cruise ship is based in Miami. Owned by MSC Cruises, it can carry 3,500 people at double occupancy and is one of the largest in the MSC fleet.
The massive wave struck the side of the ship leaving two passengers injured and a little damage to one of the cabins which had a porthole, unsettling nerves and stomachs.
According to the National Ocean Service, rogue waves are greater than twice the size of surrounding waves, steep-sided with unusually deep troughs. They are very unpredictable, often come unexpectedly. Many reports of rogue waves say they look like "walls of water."
According to an official statement, the wave hit around 11:40 pm. As a result, a Mexican guest staying in a cabin sustained minor abrasions and an Argentinian guest slightly injured a finger while closing a balcony door. Guests staying in the damaged cabin and in the nearby cabins were provided alternative rooms and "the onboard technicians immediately sealed the damaged porthole," said the cruise line.
The cruise company said that MSC Divina remained completely seaworthy after the accident and arrived in Nassau, Bahamas on Friday on schedule.