Port Canaveral turns sixty. The official celebration is appointed for Saturday, November 9th. But it started Monday with the opening of the Exploration tower. This new tourist attraction comes as a milestone, marking the port's evolution from a fishing outlet to one of the busiest cruise ports in the world. At the official ribbon cutting port officials said that "the tower is a symbol that the port will continue to grow its cruise, cargo and entertainment sectors."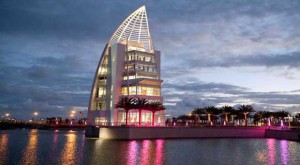 The Exploration tower is one of the main attractions in the Saturday's celebration, too. It will be open to the public for a reduced admission price of $3 with the donation of a non-perishable food item for the Central Brevard Sharing Center.
The celebration, starting at 11 p. m. will also include a Classic Cars Show. Kids Zone, Live Music and a Dance Exhibition. A parade with all the participants will start at 3 p. m. The event will take place in The Cove around Exploration Tower between Mullet Rd. and Glenn Cheek Dr.
See the full program for Saturday on Port Canaveral's official website