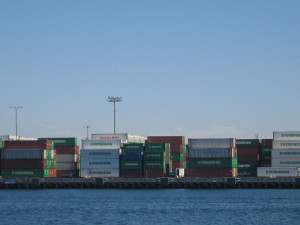 Flagler Global Logistics broke ground on a state-of-the-art 246,240-square-foot industrial facility at the Titusville Logistics Center.
The groundbreaking ceremony, marking the start of construction of the new facility, took place at the future site of the Titusville Logistics Center on Monday morning. The event was attended by local dignitaries, business and community leaders Port Canaveral CEO John Walsh, Canaveral Port Authority Chairman Jerry Allender and Flagler Global Logistics President and CEO Chris Scott, other executives from Port Canaveral and the project developer Flagler Global Logistics, as well as media representatives and invited guests.
The new 240,000-plus-foot warehouse will be completed in early 2016 and will be the first building in a 320-acre complex. The project is owned by Flagler Global Logistics which is a Coral Gables-based real estate company and a subsidiary of Florida East Coast Industries. The Port Canaveral Authority is the first major tenant at Flagler Global's Titusville Logistics Center, having inked a landmark built-to-suit lease agreement last year.
Port Canaveral's first multimodal inland port facility will support north Brevard County's growing cargo business. Chris Scott, president and CEO of Flagler Global Logistics said that the facility is planned to offer cargo importers, exporters and distributors "more storage capacity than any surrounding warehouses on a site with unparalleled connectivity via rail, air and sea."
The Titusville Logistics Center has a strategic location which will provide attractive opportunities for shippers. It is close to Space Coast Regional Airport and at a short drive from Port Canaveral, combined with direct rail connectivity to the Florida East Coast Railway and easy access to nearby highways: U.S. 1 and Interstate 95.
The new inland port and logistics center which will serve Port Canaveral is expected to expand Port Canaveral's cargo industry and bring 5,000 new jobs to the area.