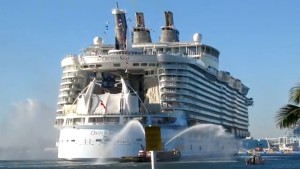 The STX Shipyard in St. Nazaire, France officially began construction on another record size cruise ship for Royal Caribbean. An official keel-laying ceremony for the fourth vessel in hugely successful Royal Caribbean's Oasis Class series was held on Thursday.
During the ceremony, a 1,000-ton block measuring 32 feet by 154 feet, the first of dozens of giant blocks that will make up the new ship was lifted by crane into a building dock and then lowered into place. The ceremony is a shipbuilding tradition that dates back hundreds of years and marks the official start of construction of a vessel. Following tradition, newly minted coins were placed under the keel and will stay in place throughout the building process until the end of the ship's construction. According to maritime tradition, when the ship is almost completed, the coins are retrieved and presented to the ship's captain and crew to be placed on board the ship. The coins are said to bring luck to the ship during its construction process and later to its captain and crew when they are sailing out at sea.
Royal Caribbean executive vice president for maritime Harri Kulovaara presided over the ceremony which was attended by key executives from Royal Caribbean and the STX Shipyard in St. Nazaire.
The new cruise ship will be 225,282-ton and will carry 5,400 passengers. It will offer its guests features similar to its sister Harmony of the Seas which is due for delivery for 2016. Both of them will be based on the same design as the other Oasis Class ships, but they will be more fuel efficient, with Harmony of the Seas 20% more efficient and the fourth ship even more.
The vessel, which is yet to be named, is scheduled to debut in the spring of 2017. The new ship will join her sisters, the other Oasis-class vessels in the Royal Caribbean's fleet, including Oasis of the Seas, Allure of the Seas and Harmony of the Seas, which will launch in April 2016.