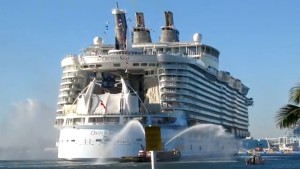 Royal Caribbean's next class of cruise ships will be powered by liquefied natural gas.
The project is called "Icon" and the new design will advance the use of fuel cell technology at sea and dramatically reduce greenhouse gas emissions without compromising on reliability or safety.
The Icon class cruise ships will be built at Meyer Turku and many of the design elements are in their early stages. At least two new vessels are expected to be included in the order, according to the the memorandum of understanding between the Finnish shipbuilding company and Royal Caribbean. The Icon-class ships are scheduled to be delivered in the second quarters of 2022 and 2024. Both of them will be powered by liquefied natural gas (LNG). The vessels will likely carry around 5,000 passengers each. No further details on the design have been released yet.
In addition, Royal Caribbean announced, it is planning to start testing fuel cell technology on an existing Oasis-class ship in 2017. The world's second-largest cruise ship company is planning to run progressively larger fuel cell projects on the newest Quantum class ships that are scheduled to be built in the next several years.
The new ships will run primarily on LNG but will also be able to use distillate fuel, in order to accommodate itineraries that call on ports without LNG infrastructure. According to Richard Fain, chief executive officer of Royal Caribbean, as more ships are built for LNG, the number of ports that will provide and create new infrastructure is expected to grow.