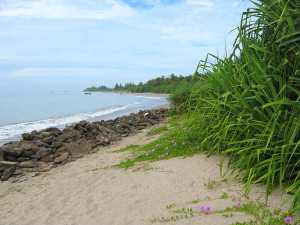 Royal Caribbean Cruises Ltd. has signed an agreement with Taiwan International Ports Co. to build a cruise ship pier on a scenic island group in the Taiwan Strait.
The $33.3 million pier will be Royal Caribbean's first construction project in Asia.
According to the cruise line's blog, the pier is scheduled for completion in 2016 and would be able to accommodate calls by ships like the 225,000-tonne Oasis of the Seas, the world's largest cruise ship.
During the signing ceremony, the Transportation Minister of Taiwan Yeh Kuang-shih said that the partnership with Royal Caribbean is the "single most important foreign tourism investment in Taiwan" and Royal Caribbean may build another pier in Penghu in the near future, the website Focus Taiwan reports.
The Taiwanese company announced Miami-based Royal Caribbean will have a 51 percent stake in the investment, with the state-owned Taiwan International Ports Corporation holding the remainder.
In a statement, Royal Caribbean said that the island was relatively underdeveloped for tourism; however, it has good infrastructure and beautiful beaches, ancient culture, and great local seafood cuisine.