Thomson takes Royal Caribbean's Splendour of the Seas and renames it Discovery.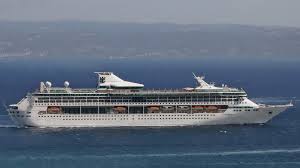 Royal Caribbean prepares to hand over Splendour of the Seas to Thomson Cruises. The UK-based company and subsidiary of TUI Group announced that when the vessel joins their fleet next year, they will rename it to Thomson Discovery.
After the acquisition, the former Royal Caribbean's cruise ship will replace Island Escape, so Thomson's fleet will keep the total number of its ships to five.
 Splendour of the Seas was built for Royal Caribbean International at the shipyard in Saint-Nazaire, France and launched on June 17, 1995. During a $55 million makeover it was given four years ago, the ship was refurbished, new propellers and thrusters were fitted and, in addition, 126 balconies were added.
The purchase is a huge step up for Thomson and with a capacity of 1,830 guests at double occupancy across 915 cabins, the vessel will be the largest in the UK company's fleet, while, at the same time, it is still fitting with the cruise line's strategy of operating smaller ships. The on-board facilities it offers its guests are family friendly and include an 800-seat theatre, outdoor movie screen, a rock-climbing wall, indoor swimming pool, nine-hole mini golf course, eight bars and lounges and a variety of dining options. The ship will be Thomson's first to offer a significant number of balcony cabins, almost 40% of the total number onboard. After transitioned from Royal Caribbean to the Thomson Cruises fleet, it will undergo re-branding and refurbishment.
During its maiden season, the new Thomson Discovery will be home-ported in Palma, Majorca and will operate four different seven-day itineraries in the Western Mediterranean, with destinations including Rome, Florence and Barcelona and call stops in Livorno, Villefranche, Barcelona and Cadiz.