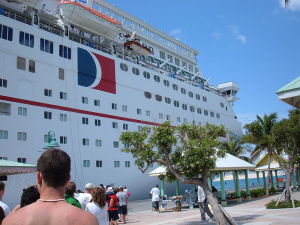 The world's largest cruise company, Carnival Corp., has recently announced plans to order nine new ships for delivery over a four-year period from 2019 to 2022. However, the company did not specify which of its nine brands would use the vessels; other details were also absent, including the cost of the ships, their size or the timeline for their delivery. The company only said that the new ships are expected to serve the North American, European and Chinese markets.
 Doral-based industry giant is the parent company of Carnival Cruise Line, Holland America Line, Princess Cruises, the luxury line Seabourn, Italy-based Costa Cruises, German line Aida Cruises, UK-based Cunard Line, P&O Cruises Australia and P&O Cruises U.K.
In a statement, Carnival said that it had signed strategic memorandums of agreement with both Italy's Fincantieri and Germany's Meyer Werft. Fincantieri will develop and construct five of the new vessels at its shipyards in Monfalcone and Marghera, Italy. Meyer Werft will build the other four ships at its shipyards in Papenburg, Germany and Turku, Finland. The agreements also include options for even more ships in the coming years.
Several new cruise ships are already on order for Carnival brands for delivery by 2019. A new Princess ship is planned to be delivered in 2017. Both Carnival and Holland America are expected to receive new vessels in 2016 and 2018. Carnival's Seabourn brand has two ships that are scheduled to debut in 2016 and 2018.
 Carnival P&O Cruises UK has recently unveiled its largest ship ever, the 3,647-passenger Britannia, delivered earlier this month. German brand AIDA Cruises also has a new ship, AIDAprima, coming later this year as well as one in 2016.
Carnival Corp. currently has a fleet of 101 ships and announced plans to remove four vessels from its fleet.