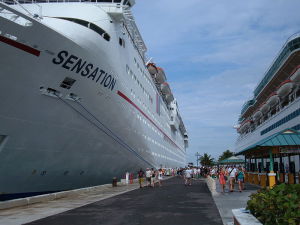 Some people don't want to go back to the place they have already visited because there is so much to see in the world and so little time. Others visit the place they like most more than once. What about going back 100 times?
 There is a couple in Central Florida that seems to take the brand loyalty to a whole new level. Last Sunday, Bernard and Janice Caffary took their 100th cruise aboard the Carnival Sensation, departing from Port Canaveral.
 Bernard and Janice are from Lakeland, Florida. For the couple cruising is a huge part of their lives. Janice, 68, says she and her husband, a 77-year-old retired submarine designer for General Dynamics, have taken more than 180 cruises in their lifetime. 99 of those cruises have been on Carnival Sensation, 42 on other Carnival cruise ships and another 40 on other lines like Norwegian, Princess, Royal Caribbean, Celebrity, and Holland America.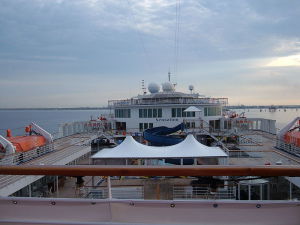 The cruise line says no other customers have sailed this many times on the same ship in the 43-year history of the company. Carnival's senior public relations manager Vance Gulliksen said that it was a real testament to the Carnival brand. He reminded that there was a customer who did 33 consecutive voyages but anyone with 100 voyages on the same vessel before.
Sunday was a special day at Port Canaveral. Carnival threw a VIP ceremony at Cruise Terminal 5 for the Caffarys with a welcome banner. The Central Florida couple will enjoy true VIP-treatment during their 100th Carnival voyage, including a thank you video from the ship played during a reception for frequent passengers, a framed Carnival flag signed by the ship's captain, as well as other onboard amenities.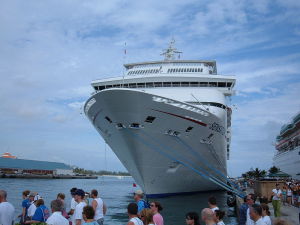 Why does the couple cruise so much on the same Carnival ship? The Caffarys say they enjoy the shows and the food aboard the Sensation. But it's the family atmosphere they like the most. Janice adds that Carnival more than some other cruise lines, allows the crew to interact with customers. A lot of the crew members call them Mom and Dad. Gulliksen says the Caffarys "have an amazing relationship with the ship".
Since they started cruising in 2000, after they retired from their jobs, the Caffarys have spent a total of 585 nights on the same Carnival ship. Janice doesn't know an exact figure for how much they have spent. She estimates that in the past 15 years, it was about $117,000 to date, with lots more cruises planned.