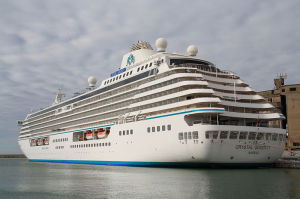 Lee Wachtstetter, an 86-year-old widow from Florida, sold her five-bedroom home on 10 acres in the area of Fort Lauderdale and became a permanent luxury cruise ship resident for only $164,000 a year, according to Florida Today.
The widow used to love cruising with her husband and she promised him she would keep on the tradition. After her husband passed away, she took her daughter's advice, decided to be on the move and to see the world while living in the lap of luxury.
She took residency on the Crystal Serenity, a 1,070-passenger vessel. She is currently known as Mama Lee aboard the 12-year-old cruise ship of Crystal Cruises Line, and has been living full time there for nearly seven years, which is longer than most of the 655 crew members.
Wachtstetter said that her husband, Mason was a banker and real estate appraiser. He introduced her to cruising. She added that during their 50-year marriage they did 89 cruises. After his death, she has been to more than a hundred countries and nowadays she rarely gets off at the ports, except in Miami, where her family lives or in Istanbul where she loves shopping.
Mama Lee says that she enjoys dancing and this is "the best of the remaining ships that still use dance hosts". Before coming aboard the Crystal Serenity, she lived on a Holland America cruise ship for three years. "The day they announced they were stopping the dance host program, was the day I decided to leave", Mama Lee explained.
The day before her husband died in 1997, he told her not to stop cruising. "So here I am today living a stress-free, fairy-tale life", Wachtstetter said.
How about you? Would you live aboard a cruise ship for the rest of your life?