For a second time in less than a week Royal Caribbean has to deal with a virus spreading on one of their cruise ships. More than 300 people, passengers and crew, on the Explorer of the Seas have complains of diarrhea and vomiting. There are 3,050 passengers and 1,165 crew members aboard the ship, the Explorer of the Seas, whose home port is at Bayonne, NJ.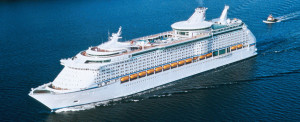 Janet Diaz, spokesperson for Royal Caribbean International, told CNN that the ship skipped a planned stop in Haiti on Saturday and sailed directly to San Juan, Puerto Rico, where it underwent an extensive sanitizing.
Just last week, more than 50 passengers and crew members became sick on the Majesty of the Seas on a 4 night cruise to Key West and the Bahamas. The norovirus was pointed as cause of the illness on the Majesty and the case is probably the same with the Explorer. The norovirus is easily spread on cruise ships with the tight confines of the vessels.  Affects of the illness are generally vomiting and diarrhea and it usually lasts between 24-72 hours.
The nororvirus is a common illness on cruise ships and other places where many people share limited space. U.S. cruise lines had seven norovirus outbreaks in 2013, a decrease from a high total of 35 in 2006. The CDC says approximately 21 million people fall ill with from the norovirus bug every year in the United States.
The CDC said Royal Caribbean officials have taken action, including increasing disinfection procedures and preparing new crew members to join the ship mid-voyage, so passengers will probably experience a little discomfort but will be taken good care of.
Royal Caribbean offers a variety of Bahamas and Caribbean cruises out of Port Canaveral.