Another cruise ship had to return earlier than planned because of a norovirus outbreak. This time it is the Caribbean Princess. 165 passengers fell ill with norovirus, the same intestinal disorder that forced another ship to cut short a trip this week. Like Explorer of the Seas, the Caribbean Princess was on a Caribbean cruise. The ship set sail from Houston on Jan. 25 and was scheduled to return on Saturday.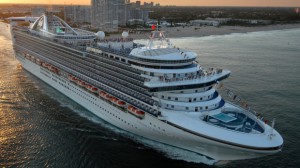 Cruise ships arriving in U.S. ports must report all cases of gastrointestinal illness treated by on-board medical staff to the CDC's Vessel Sanitation Program division, and a separate notification is required when the number of cases exceeds 2% of passengers and crew. When the number of cases exceeds 3% of passengers and crew the CDC issues a public report.
Non of the Port Canaveral based cruise ships has had troubles with the virus so far this year, but take all precautions and be careful so thet you enjoy your vacation.