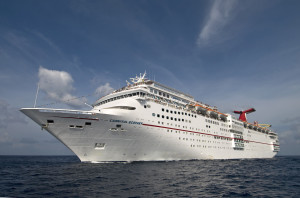 Carnival Cruise Lines' new Amber Cove port of call in the Dominican Republic will be ready for guests on October 6, 2015, the cruise line officials have recently said in a news release. Carnival Corporation. is spending $85 million to develop its purpose-built cruise ship center. The new port is located on the country's northern coast, near the historic town of Puerto Plata.
The Miami-based cruise ship company is building the new cruise center in partnership with Rannik family of Grupo B&R which is a Dominican-based port development firm.
According to Giora Israel, senior vice president of global port and destination development for Carnival Corp. the price tag is more than the company has ever invested in anywhere in the world.
As the Caribbean accounts for more than a third of worldwide cruise traffic, the new 30-acre facility is expected to bring more than 250,000 cruise passengers and provide more than 430 local jobs during its first year of operation, as well as to revive interest in the north coast of the Dominican Republic. Amber Cove is named for the region's rich minerals reserves, known for generous amounts of amber. The port hasn't been a regular cruise stop for more than thirty years
The facility will offer two berths and will be able to accommodate the largest cruise ships currently operating. The facility will be a featured port of calls on select sailings of Carnival Breeze, Carnival Splendor, Carnival Glory and Carnival Victory sailing from Miami, Carnival Sunshine and Carnival Valor from Port Canaveral, Carnival Conquest from Fort Lauderdale, and Carnival Fantasy from Charleston, South Carolina.
The Amber Cove pier is already built and with building walls and several structures close to be finished as the buildings at the site are near completion. The facility will feature a waterfront welcome center, a recreational area with a swimming pool, water park and green spaces, a hilltop bar and observation point, craft marketplace selling Dominican souvenirs, eateries and bars, and transportation hub.
Amber Cove will offer its guests a selection of 40 land tours and a wide variety of landside experiences: beaches, water sports and special culinary, cultural and adventure options.