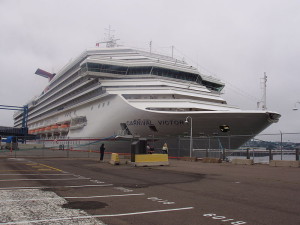 Erika may no longer be a tropical storm, but its remnants are still expected to send heavy rains to Central Florida.
Some cruise ships traveling in and out of Port Canaveral made adjustments to their schedules as a precaution due to uncertainty about Erika's path.
Two cruise lines, Carnival Cruise Line and Royal Caribbean, have officially announced changes in their ships' itineraries.
The Carnival Valor, which leaves Port Canaveral for a seven-night cruise Saturday, is now skipping a stop in the Bahamas. The ship will replace it with an extra day at sea. Royal Caribbean's Freedom of the Seas was scheduled to leave Port Canaveral an hour earlier Sunday to avoid any impacts from the weather.
The Carnival Conquest which departs from Fort Lauderdale  has cancelled calls at St Kitts and St Maarten and changed them for stop calls in Nassau, Bahamas. In addition, the cruise company extended the stay at San Juan, Puerto Rico. As Erika is heading through the western Caribbean, Bahamas and Florida more cruise ships are expected to be forced to change route.
Royal Caribbean announced two days ago a change in the itinerary for Independence of the Seas. Officials from Royal Caribbean said they are monitoring Erika's path and changes could be made to other cruise ships' itineraries: Adventure of the Seas, Enchantment of the Seas, Majesty of the Seas, Oasis of the Seas and Freedom of the Seas.
Disney Cruise Line did not announce changes to its schedules or itineraries as of Saturday.
Currently, cruise lines that altered their itineraries due to Tropical Storm Erika have switched back to their original schedules after Erika dissipated Saturday.
The cruise companies advised travelers to check their websites for any additional updates.