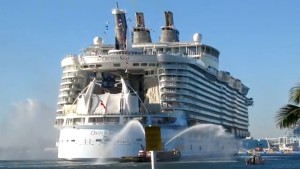 PortMiami could soon welcome the world's largest cruise ships as Royal Caribbean International is planning a multimillion-dollar expansion at the port.
The world's second largest cruise operator is planning to finance, design, build and operate a new cruise terminal complex at the Port of Miami, according to county officials. The new terminal will be called Terminal A. The complex is expected to be built in the northeast section of the port.
The berth will be about 400 meters long and will be able to fit an Oasis cruise ship, according to Kevin Lynskey, deputy port director, which means Royal Caribbean's Oasis of the Seas and its sister ships- the largest cruise vessels in the world. The third and fourth Oasis class cruise ships are expected to be delivered in 2016 and 2018. Oasis of the Seas and Allure of the Seas are presently based most of the year at Port Everglades in Fort Lauderdale and the current commitment expires in 2018.
Royal Caribbean International, which has headquarters at PortMiami, is anticipated to invest more than $100 million during the construction phase of the project and according to Lynskey the port would likely spend "several millions" as part of the development.
Once the terminal is complete, PortMiami would receive $8.3 million a year in revenue as part of the deal and more than double the number of its annual cruise passengers to roughly 1.5 million.
The Terminal A at PortMiami is planned to be operational by late fall of 2018.
Rob Zeiger, global chief communications officer for Royal Caribbean Cruises said that the new development is expected to increase Royal Caribbean's presence, as well as to bring economic impact and new jobs to the cruise company's hometown.