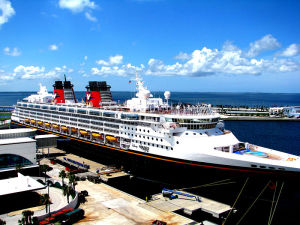 A few cruise lines have canceled port calls in Puerto Vallarta, Mexico this week, after reports of armed violence between drug gangs and local authorities.
Disney Cruise Line pulled the May 12 port call in Puerto Vallarta from Disney Wonder's schedule. The Wonder spent a day at sea instead. The cruise line distributed a letter to the passengers aboard the Disney Wonder which is operating a two-week Panama Canal cruise. The letter was also posted on the Disney Cruise Line blog. The company explained that the May 12 port call was being canceled due to "several reports of unrest in the area around Puerto Vallarta" and the taxes, fees and port expenses associated with the visit of Puerto Vallarta would be refunded.
The 2,170-passenger Celebrity Infinity substituted a sea day for the Mexican port call on May 10 and the 2,501-passenger Jewel of the Seas also skipped its Puerto Vallarta port call on May 12. Passengers aboard Jewel of the Seas gathered in the ship's Coral Theater to protest the cruise line's decision to cancel the visit to Puerto Vallarta. Their protest lasted a little over an hour, according to the Cruise Critic Royal Caribbean forum.
The Carnival Miracle which was also scheduled to visit Puerto Vallarta on May 12 didn't cancel the port call. However, some tours outside the city had been canceled "in an abundance of caution."
Shootings, cars, buses and gasoline stations set on fire were reported earlier this month in and around the normally peaceful resort of Puerto Vallarta and the surrounding Jalisco state. The US State Department issued a warning for Mexico on May 5 against traveling on rural roads and secondary highways in Jalisco state.
Officials of Mexican government and the Florida Caribbean Cruise Association met in Miami on May 14 to discuss cruise ship cancelations to Puerto Vallarta, Mexico, due to the series of violent incidents beginning May 1, when the increasingly strong Mexican drug cartel in the region, known as Jalisco New Generation, shot down a Mexican military helicopter, killing three soldiers