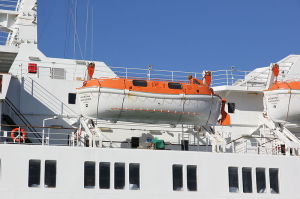 A Halloween cruise turned into a real nightmare-on-sea when the Bahamas Celebration, shortly after leaving Grand Bahamas Island and heading back to Port of Palm Beach, Florida, hit an unidentified object at around 9 p.m. Friday, and the passengers had to be evacuated.
More than 960 passengers were planning to attend the costume contest and the zombie ball on Halloween night. Nobody supposed it would be a really terrifying night. Suddenly, the passengers heard a loud bang and the vessel, which is 600 foot tall and with the size of two football fields, started tilting. At the beginning, everybody thought it was a Halloween joke, but then the ship lost power. The lights were out and it became total chaos. "Everybody was screaming at each other"; "People were crying"; "They were hysterical"; "We could feel the boat tipping over", some passengers recalled later.
Ironically, the luxury liner guests had paid up to $400 for the two-day horror cruise, including access to a number of Halloween-themed events such as the Deck of Death which is "not recommended for anyone with a heart condition", according to the company's website.
After the incident, the passengers were told to put on life jackets and prepare for evacuation. All emergency steps were taken, Celebration Cruise Line officials said in a news release made public on Saturday. No injuries were reported. According to the company's statement, no passengers were ever in any danger and the evacuation was "organized and efficient".
The ship returned to Freeport on Grand Bahama Island, and hours after the alarm first sounded, the passengers made it safely off from the vessel. Then they were transferred and put in accommodation in various resorts on the island.
James Verillo, the owner of the Bahamas Celebration Cruise Line, said on Saturday afternoon that the small hole on the side of the vessel has been repaired and the ship is in no danger of sinking.
However, at least two cruises planned for the ship would be canceled.
Passengers are hoping for a refund or at least a more detailed explanation of what happened. Some of them say they would never go on a cruise ship again.