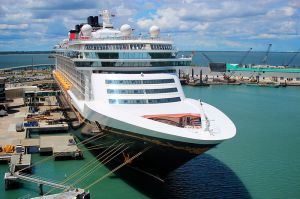 The completion and opening of the new cruise terminal at Port Canaveral have been delayed by more than a month, announced the Chief Executive Officer John Walsh. It was reported that the terminal complex is now slated to open December 27. Some cruise lines, originally planning to use the new terminal in November and December, will be forced to shift to other cruise terminals.
Most parts of the project, including terminal building and gangways, will be completed on schedule in November. However, some problems have appeared when removing the 90-foot-deep piles which are remnants from the former cargo piers.
According to John Walsh, the terminal will accommodate the largest cruise ships that are sailing at the present time, as well as the 6,000-passenger cruise ships that are currently under construction.
Royal Caribbean is planning on using the new cruise terminal for its Explorer of the Seas that will be docked there December 27, followed by Freedom of the Seas December 28 and Enchantment of the Seas December 29. Quantum of the Seas is slated to stop here, starting in January, as part of its itinerary to Bahamas. In addition, Carnival Pride and Norwegian Breakaway will make port-of-call stops at Port Canaveral new terminal.
The project is expected to be the most efficient cruise terminal in the world. Apart from the 187,500 square foot two-story terminal, the $100 million project will feature 1,400-foot-long berth, as well as parking for 1,000 vehicles. Located on the south side of Port Canaveral, the terminal will offer the passengers and crew a variety of dining and entertainment options within walking distance.
Recently, Port Canaveral was forced to make changes to its construction work because of an accident on Sunday morning two weeks ago. While being moved as part of the terminal construction work, a 100-foot steel beam crashed onto the roof of the Grill's Tiki Bar on Glen Cheek Drive and hit an upper level bathroom. Fortunately, no one was hurt. Port Canaveral officials are now investigating how the accident happened.