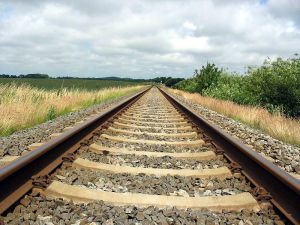 Port Canaveral Authority has recently approved the design of the new $75 million automotive import/export complex. The port needs to have direct rail service into the area.
The port's authorities have announced their intention to file a request with the Surface Transportation Board to construct and operate approximately 11 miles of new rail line between Port Canaveral and the Florida East Coast Railway near Titusville, Florida. The rail line is planned to begin near Port Canaveral's North Cargo Area, over the Banana River and part of Kennedy Space Center grounds and then to connect with the existing center's rail line and with the Florida East Coast main line north of Titusville.
The project includes a single track rail, used to operate three or four trains a week and they would move at about 10 miles per hour. The trains are expected to carry 170 rail cars a week and the number would increase to 220 within 2 1/2 years. The track rail could be completed by late 2017.
Port Canaveral Chief Executive Officer John Walsh said that the estimated cost of the project is $75 million. He also added that various methods of private and public funding are being discussed. The project is expected to be beneficial to the area: it would expand port's cargo operations and generate 5,000 new jobs within the next few years.
However, the construction and operation of the project has the potential to lead to negative environmental impacts on the air and water quality, vegetation, soil, noise pollution, wildlife and habitat, and many others, such as reduced property values and lowered quality of life on North Merritt Island, some environmental activists have warned.
Mary Hillberg, vice president of the North Merritt Island Homeowners Association and a member of the North Merritt Island Special Advisory Board, raised concerns about potential impacts on the Indian River Lagoon ecosystem, which is now the focus for major restoration efforts. Mary says that it makes no sense to spend millions of dollars to fix something and destroy it at the same time.