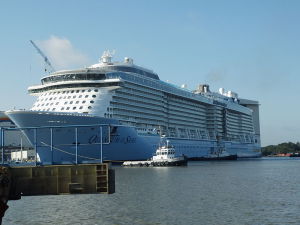 In addition to the eighth terminal that is currently under construction, three new cruise terminals are likely to be built at Port Canaveral to handle the expected increase in cruise ship traffic. A detailed presentation of Port Canaveral's cruise and cargo outlook was given to the commissioners just a few days ago.
The $105 million Cruise Terminal 1 is scheduled to open December 27 and will be used mainly by Royal Caribbean. The additional terminals will be needed by 2016, 2018 and 2022 each. They would be part of the $587 million five-year development program that is expected to establish the port as an important cargo destination and boost the number of the cruise passengers.
Port Canaveral expects to welcome 50 percent more cruise passengers by 2020 and their number will double by the late 2020s, according to Port Chief Executive Officer John Walsh.
Port Canaveral commissioners could launch construction of the new 2016 cruise terminal next year. However, in order to be confident about paying for it, they will need a firm commitment from one or more cruise lines with capacity of 3,800 to 4,600 to use the new terminal for at least six months.
Discussions with several cruise lines are being held and Walsh said the needed commitment is expected to be signed in March, after the cruise lines announce the schedules for the 2016 and 2017 cruises.
The port authority also plans to renovate three of the existing terminals so they accommodate larger cruise ships. Cruise ships size is growing and that's particularly the case with new "mega-ships" that can carry upward of 7,500 passengers and crew.